What is financial literacy? Why do entrepreneurs need it? Are you confident with your financial skills? Ideally, if you are interested in becoming an entrepreneur and running your own business, the answer should be yes.
Everyone can run a business to a certain extent. However, having a good knowledge of finance can get your entrepreneurial venture a step further and closer to success. There is a thin line between the success and failure of a business, and financial literacy can help your business stay afloat in the long run.
What is financial literacy?
Financial literacy means having sound financial knowledge in regard to business finance. Being financially literate and coupling that knowledge with business acumen allows entrepreneurs to make the best decisions based on the current data and existing options. Financial literacy is the backbone of a business really and being an entrepreneur with a deep understanding of finance can get you a long way.
Why entrepreneurs need it
In a survey conducted by CB insights on the top 12 reasons startups fail, financial reasons amounted to about 53% of those business failures. Specifically, the top reason (38%) that startups failed was because they ran out of cash or failed to raise new capital. Additionally, about 15% responded that they faced pricing and cost issues.
In combination, these two combined make up for more than half of the total business failures where entrepreneurs failed to assess and manage the financials of their company. If we compare it with the same 2019 survey, financial failures in startups grew by 6% (from 47% to 53%).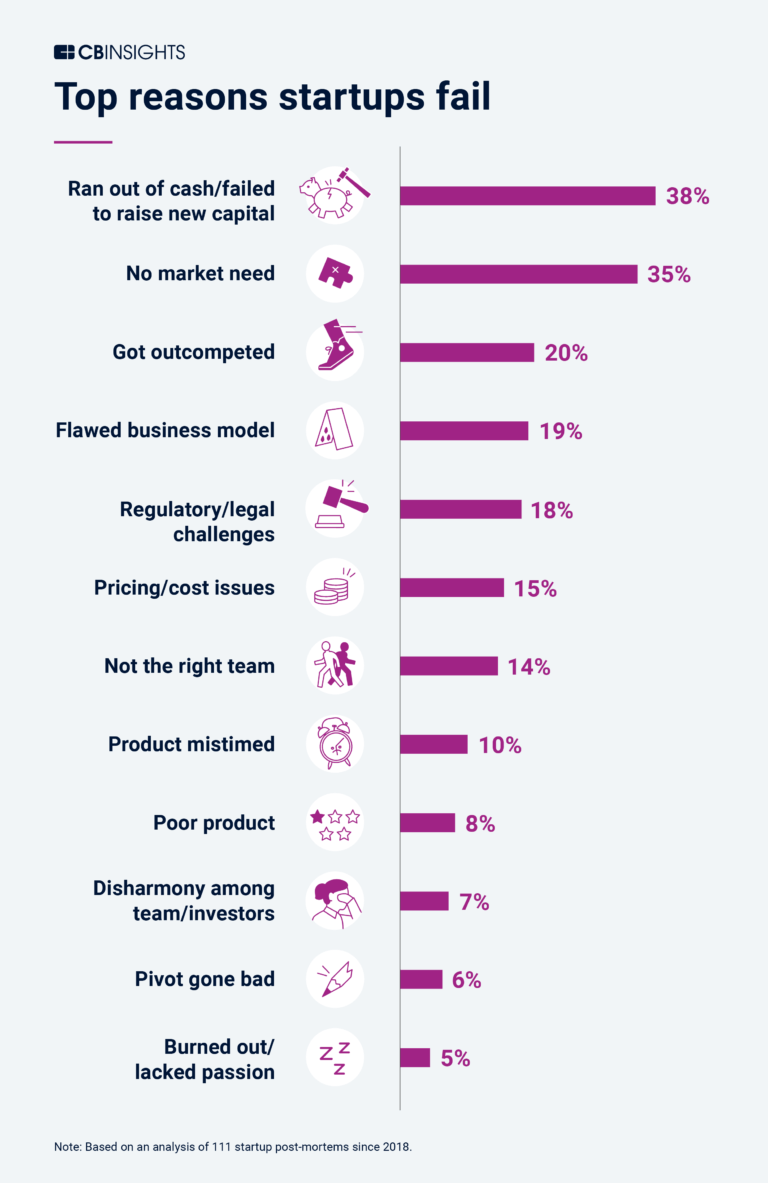 Proper financial management of a business requires sound financial knowledge and composure to avoid impulsive decisions. Dealing with money it is important to be rational. Money is easier spent than gained and there is always the danger of running out of money.
Entrepreneurs should refrain from impulsive decisions as that could put in danger not only their business but also their employees who depend on its success.
What startups need to do is simple. They need to capture a good market share, be profitable, and constantly growing. To take the right decisions in that direction, it is critical that the entrepreneur has the financial literacy required for a position of such responsibility.
Always taking the right decisions is hard and proper financial management is a struggle, especially when being a director of a company. People find it hard to even manage their personal finances, let alone manage the more complicated financial matters of a business. That's how difficult it is, and financial literacy is the only way forward.
Benefits of financial literacy
A business or any other organization works similarly to a living organism. Proper financial management is key to maintaining a healthy business similar to what medicine does to living beings.
Financial literacy helps entrepreneurs treat businesses' underlying issues and make sure that today's decisions will not cause bigger problems in the future, or at least keep them at a minimum while remaining manageable.
Knowing the financial condition of a company is like knowing its health. Thus, failure to notice or treat problems early on, will fester and become a bigger problem in the future.  
Conclusion
It has to be acknowledged that financial literacy is lacking around the world, and we need to find ways to enhance it further. The world needs more businesses and innovation to spark growth and job creation.  A good way to do this is by equipping students and prospective entrepreneurs with the needed financial management skills for entrepreneurial success.